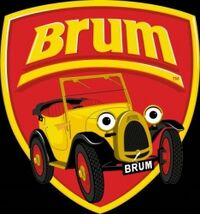 Brum was a Children's TV programme,broadcast on CBBC and CBeebies about the adventures of a car of the same name. It was produced by Ragdoll Productions for HIT Entertainment and first broadcast in 1991.
It was initially directed and written by Tom Poole and produced by Anne Wood, latterly directed and written by Vic Finch, Paul Leather, Emma Lindley, Brian Simmons, Nigel P Harris and others. It was initially narrated by Toyah Willcox and later by Tom Wright. The show was very popular in the 1990s.
The title character is a half-scale replica of a late-1920s Austin 7 "Chummy" convertible. He drives by himself (in reality by radio control) and can express himself in a number of ways including opening and closing his doors and bonnet, "bobbing" his suspension, flashing and swivelling his headlamps, rotating his starting crank, extending his turn signals, and using his horn.
The actors in Brum do not speak; mime and off-screen narration help propel the story. For this reason, it has been easy to prepare episodes for airing in other countries and Brum has been broadcast in many parts of the world and in many languages, including Italian, Dutch, Hebrew, Croatian, Arabic, Norwegian, Danish, Finnish and Swedish.
Brum 1991 to  1997 Titles (instrumental with extra instruments added in 1997.)                                                                                                                                                                                                                                                                                                                                                                                                                                                                                             
Ad blocker interference detected!
Wikia is a free-to-use site that makes money from advertising. We have a modified experience for viewers using ad blockers

Wikia is not accessible if you've made further modifications. Remove the custom ad blocker rule(s) and the page will load as expected.