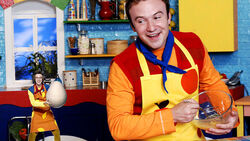 Big Cook, Little Cook is a television series for nursery school-aged children broadcast on BBC television channels (particularly the CBeebies digital television channel).
The programme is set in the kitchen of a café, with two principal characters, Big Cook Ben and Little Cook Small. Ben is a full-sized adult, but Small is only a few inches tall (somewhat ironic, as his actor is the taller of the two.) and flies around on a wooden spoon. Ben and Small are played by Stephen Marsh and Dan Wright respectively.
Ad blocker interference detected!
Wikia is a free-to-use site that makes money from advertising. We have a modified experience for viewers using ad blockers

Wikia is not accessible if you've made further modifications. Remove the custom ad blocker rule(s) and the page will load as expected.